Les Vegas → Death Valley National Park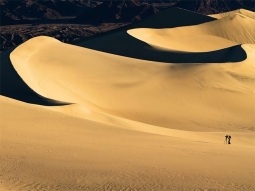 Death Valley National Park
Meet yourCertified Guide, hop into our luxuriousTour Trekkervehicle and get ready for a once-in-a-lifetime expedition. Don't worry about the details; we've already packed up lunch and bottled water, plus paid your park entrance fees.
On the way to Death Valley National Park, your expert local guide will share insights into the area's climate, history, wildlife and terrain. From its elevation to its temperature, this incredible area is a destination of unique extremes. A quick stop at quirky Area 51 Alien Center gives you a chance to collect fun, Area 51-themed souvenirs.
Rhyolite ghost town and Goldwell Open Air Museum waits for your arrival; abandoned long ago, the shells of the town bank and railway station remain to spark your imagination.
From Rhyolite, a stop at "Hell's Gate" dramatically reveals a panoramic view of Death Valley National Park. Don't let the name fool you—Death Valley is alive, and for mind-blowing reasons to be discovered once you enter the park.
A walking tour at Salt Creek boardwalk reveals a surprise: Desert pupfish are alive and well here. A guided nature walk tells you more.
Stops at the Borax Works Historic Mining site and Death Valley Visitor Center show you how life has sustained. These stops include museums and a gift shop.
Badwater Basin is next. Snap some photos of the sign designating its altitude (282 feet below sea level) as the lowest point in the western hemisphere. Your guide will explain how the remarkable altitude and terrain affect the weather to make this one of the hottest places on the planet. (Don't worry, our tours take place in the milder months of September through May.)
Thousands of years ago, Badwater Basin was a lake that eventually evaporated. The saltpans that remain today are an unforgettable sight. Stay on the boardwalk and bring your sunglasses; the fields of salt are bright white under the sun. On warm days, you may even hear the pops and squeaks of salt crystals bursting.
On the next stops, you'll see why the stunningly colorful Artist's Palette is named as it is. You'll visit a stately historic hotel built in 1927—The Oasis at Death Valley. At Zabriskie Point you'll overlook what appears to be rolling waves of rock, yet another surprising vista of remarkable Death Valley. One final adventure awaits: A light, off-road driving tour of 20 Mule Team Canyon reveals a history of mining and pop culture.
After an eventful day, you'll step back into the luxury of our custom Tour Trekker for a comfortable ride. You'll even be back to your hotel in time for dinner and a show or a night on the town.