Over the Edge Helicopter and Boat with Legacy (West Grand Canyon)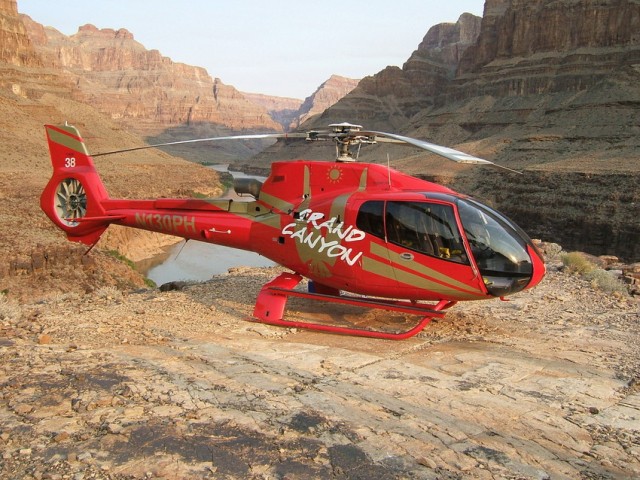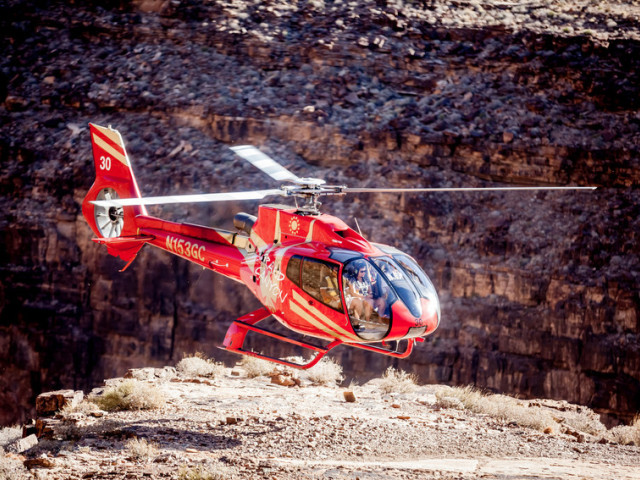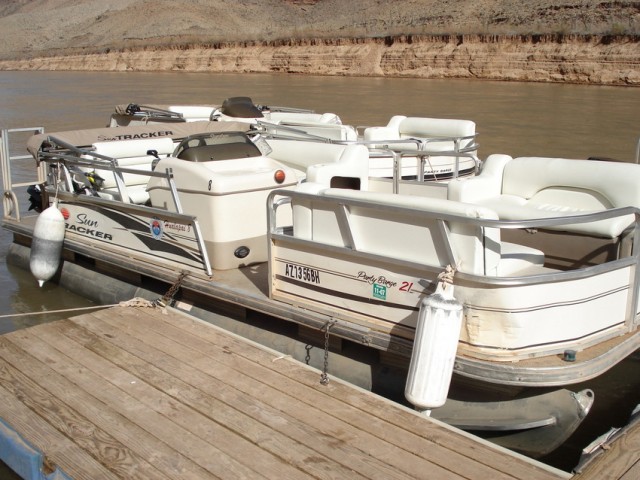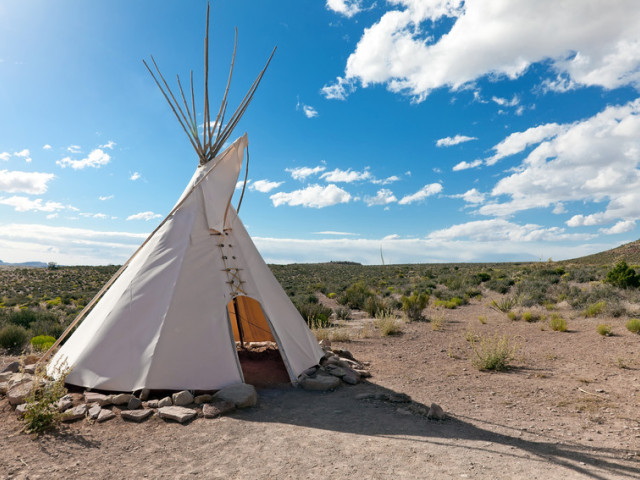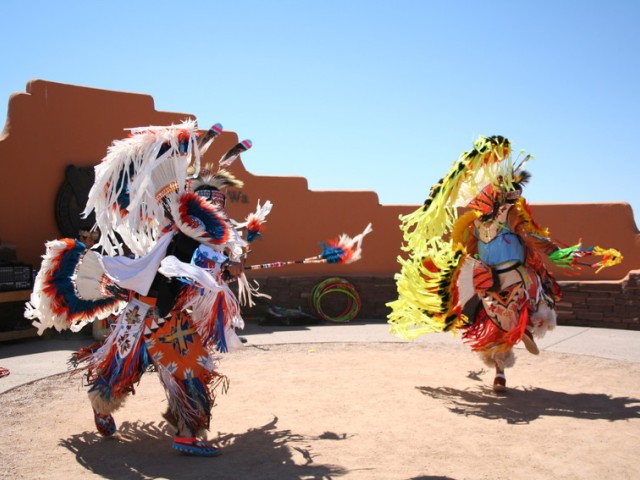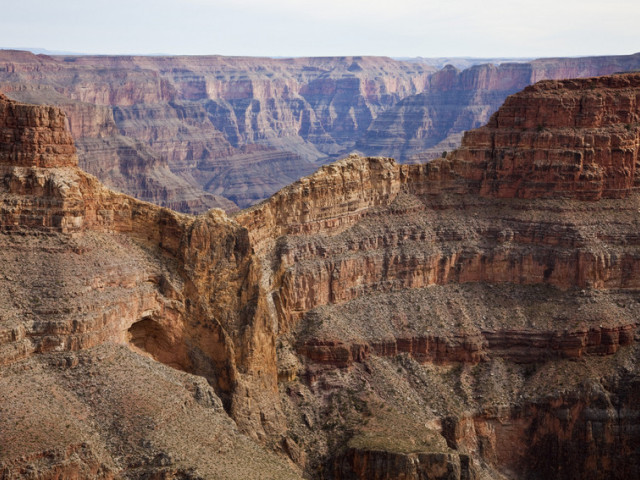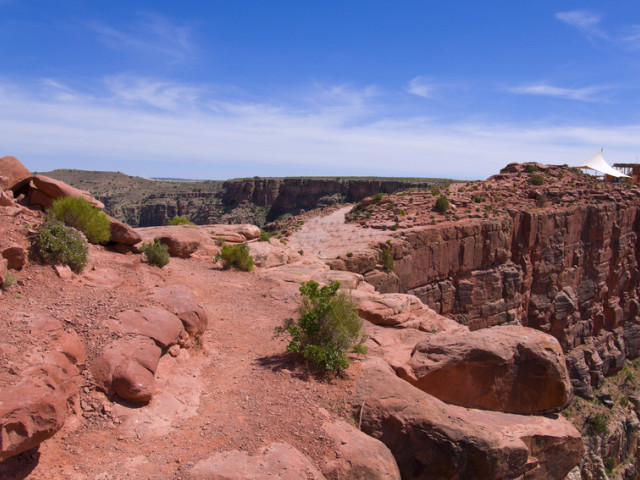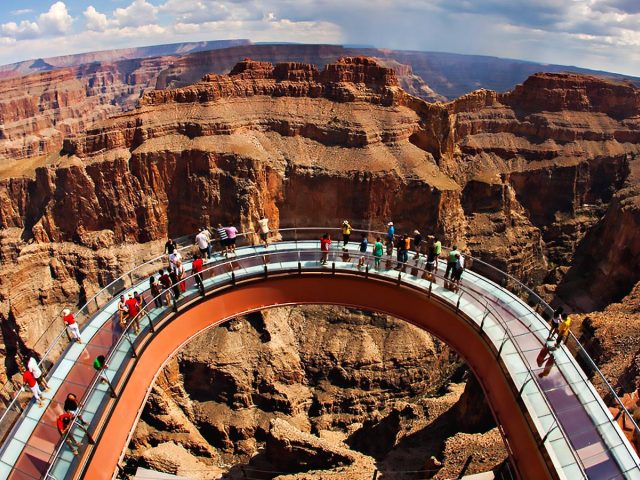 What To Expect
Overview
The West Rim offers some of the most exciting options for exploring and sightseeing at the Grand Canyon. This is the only region of the park that allows easy access to the canyon floor. To reach the bottom otherwise requires days of rigorous hiking and climbing. Over the Edge with Legacy helicopter tour flies you over the rim's edge and down a mile below the rim of these ancient stone walls. Upon landing on the canyon floor, you'll enjoy a short and scenic walk to the bank of Colorado River where a pontoon boat awaits. This peaceful cruise offers sights of the mile-high canyon walls rising on either side of you. Afterwards, you'll return to the rim's surface by helicopter and continue touring the viewpoints on foot. This top-to-bottom Grand Canyon West tour truly is a sightseeing opportunity unlike any other!
Sample Itinerary:
•Flight Duration: Approximately 5-7 minutes each way
•Pontoon Boat Duration: Approximately 15-20 minutes
•Time spent at Grand Canyon: At the customer's discretion
•Check-In: Arrive at Grand Canyon West and check in for the helicopter flight to the bottom of the canyon.
•Helicopter Transfer: Fly 4,000 feet down to the canyon floor.
•Colorado River Cruise: Cruise up the Colorado River on a pontoon boat and float back.
•Rim Return: Helicopter flight back to the terminal and transfer to the rim shuttle service
•Ranch: Enjoy live entertainment and cowboy-themed activities in an old Western town setting.
•Viewpoints: Visit Eagle Point and Guano Point. Both areas offer spectacular views of the canyon.
•Terminal:Return to the terminal with photos and memories to last a lifetime.
Packages
Helicopter+Boat+Admission with Legacy
Prices subject to availability
Helicopter+Boat+Admission with Legacy+Meal
Prices subject to availability
Helicopter+Boat+Admission with Legacy+Skywalk
Prices subject to availability
Helicopter+Boat+Admission with Legacy+Skywalk+Meal
Prices subject to availability
Things to Know
Included/Exclude
Meal (optional) at check-out
Grand Canyon West Entrance Fee (Legacy)
Landing on canyon floor
Helicopter descent to canyon floor
Transportation to Grand Canyon West Rim
Meet Up/Redemption Information
Location
Time
Address
Grand Canyon West Terminal

Self-departure, 30 minutes prior to departure

Depature time between 7:00 am to 14:00 pm. The final departure time based on the voucher
Booking and Confirmation Process
Due to high demand, inventory is mostly synchronous but sometimes not. Our consultant will check real time availability onsite and confirm seats.
You will receive your booking information instantly via email. In the event that you do not receive an email from us, please check your spam folder or notify us via email.
How To Use
Terms & Conditions
What is the cancellation policy?
Cancellation Period
Policy
30 or more days prior to tour departure date
Refund 90% payment
15 - 29 days prior to tour departure date
Refund 70% payment
8 - 14 days prior to tour departure date
Refund 50% payment
7 days prior to tour departure date
Non-refundable
What if you miss the appointed time or departure date?
Once the booking is confirmed, an absence or failure to show up on the scheduled date or time is a no-show. No refunds or reschedules will be issued for no-shows and late arrivals
Other important information
Arrive at the terminal 30 minutes prior for check-in.
Bring your I.D. - All passengers booked on a tour must have government issued forms of identification.
Departure time only for referring, different packages include different departure time:7:00am/ 7:30am/ 8:00am/ 8:30am/ 9:00am/ 9:30am/10:00am/ 10:30am/ 11:00am/ 11:30am/ 12:00pm/ 12:30pm/ 13:00pm/ 13:30pm/ 14:00pm
Water: You may bring a bottle of water, however the bottle is not allowed to be opened in the aircraft.
Cameras and phones are allowed and encouraged, but please be aware that the use of "Selfie Sticks" and extending camera poles are strictly prohibited in and around the aircraft.
Layered clothing is recommended through the months of March to September, and winter clothing should be worn from October to mid-March.
Wear sensible shoes. The ground at the Grand Canyon is rough, rocky and uneven. It is important to wear sturdy, toe-covering shoes that can handle rough terrain. Sneakers or hiking boots are highly recommended.
Passengers weighing 300lbs (136.36kg / 21.43 stone) or more will be charged a fee for an additional comfort seat. This fee is based on the product and ranges from $50 to $200.
ALL FLIGHT TIMES LISTED ON THIS SITE ARE APPROXIMATE. OUR OPERATIONS ARE SUBJECT TO CANCELLATION DUE TO LACK OF PASSENGER DEMAND, WEATHER, ETC
Please note : Seasonal Supplements and Fuel Surcharge may apply and are subject to change without notice.