Xavage Park All-Inclusive Admission - Adventure Tours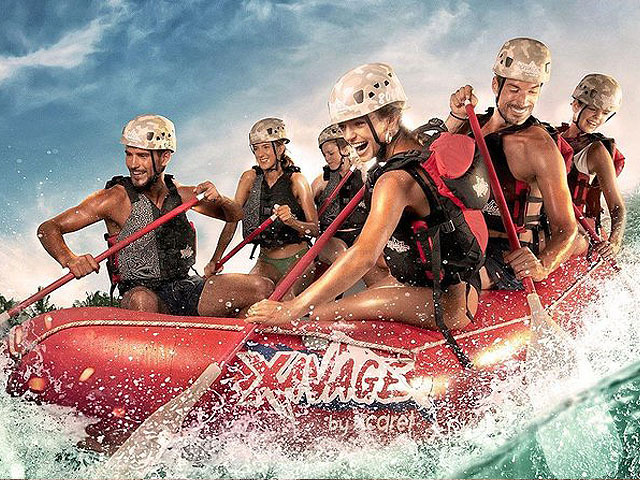 What To Expect
Overview
Xavage is the most fun adventure park in Cancun and Riviera Maya featuring one-of-a-kind and thrilling activities on water, land, or air.
Also, the little ones will have unforgettable moments in the Splash Zone where they will find hanging bridges, waterslides, and lots of fun. There is also a swimming pool for the whole family to refresh yourself and rest for a while.
Delicious snacks and a complete buffet, as well as unlimited non-alcoholic beverages, are included in your admission. The fun is ready, and only you are missing.
If you are looking for more, get ready for a rafting experience through the only whitewater rapids in Riviera Maya. Are you ready for this adventure?
All-Inclusive Admission can join six activities to show your skills. In these adventure tour you will paddle a kayak along two circuits of canals, climb a Ropes Course with different levels of adventure and obstacles or fly through a zip-line in a horizontal position to enjoy the view from above. Board a Jet Boat that will take unpredictable turns, drive an all-terrain vehicle by unusual paths, and team up through whitewater rapids.
Activities You May Also Like
Packages
All-Inclusive Admission
No transfer is included, you need to go to the park by yourself
Adult

$142.49

$149.99

Child

$106.87

$112.49
All-Inclusive Admission + Transportation from Moon Palace Resort
Please provide hotel name and address when placing order
Adult

$151.99

$159.99

Child

$113.99

$119.99
All-Inclusive Admission + Transportation from Cancun
Please provide hotel name and address when placing order
Adult

$161.49

$169.99

Child

$121.12

$127.49
All-Inclusive Admission + Transportation from Riviera Maya/Playa del Carmen/Costa Mujeres
Please provide hotel name and address when placing order
Adult

$170.99

$179.99

Child

$128.24

$134.99
Things to Know
Included/Exclude
Xavage All-Inclusive Admission
Kayak
Ropes Course
Splash Zone (swimming pool + waterslides)
Jet Boat
Monster Truck
Zip-line Flight
Rafting
Delicious food and non-alcoholic beverages
Safety equipment for all activities.
Restrooms, dressing rooms, showers, and lockers.
Other services (WiFi, ATM and shops).
Free parking.
Round-trip hotel transfers (except those stated as included)
Insurance and other personal expenses are not listed in Fee Included.
Add round-trip transportation service should be paid service fee to the English tour guide, 2-3 USD is recommended
Meet Up/Redemption Information
Location
Time
Address
Xavage Park

Basic package does not include transfer, please arrive at the park by yourself

Hours: Monday to Saturday from 8:30 a.m. to 5:00 p.m.
Carretera Cancun-Puerto Morelos, km 307. Mza. 01 Lote 01-02, 77580 Puerto Morelos, Q.R., Mexico
Transfer package included: Hotel lobby or nearby pick-up point

Please note the hotel name and full address when placing the order. If the hotel is not available, we will arrange the nearest pick-up point. You need to arrive at the pick-up point by yourself
Booking and Confirmation Process
Due to high demand, inventory is mostly synchronous but sometimes not. Our consultant will check real time availability onsite and confirm seats.
You will receive your booking information instantly via email. In the event that you do not receive an email from us, please check your spam folder or notify us via email.
How To Use
Terms & Conditions
What is the cancellation policy?
Non-refundable reservations cannot be cancelled or modified once submitted.
What if you miss the appointed time or departure date?
Once the booking is confirmed, an absence or failure to show up on the scheduled date or time is a no-show. No refunds or reschedules will be issued for no-shows and late arrivals
Other important information
Kids under 18 years old must have the waiver form signed by an adult.
Must present an ID at the Park's ticket booth.
The minimum height required for the Zip Lines is 1.10 m, the minimum weight is 40 kg. and the maximum of 136 kg.
Children under 12 years of age and over 4.5 ft tall must present an ID to verify their age.
Wear a swimsuit, water shoes and comfortable clothing. Additionally, bring an extra change of clothes and a towel.
Please, only use chemical-free insect repellent.
The wading pool, waterslides and bridges at Splash Zone are exclusively for kids under 12 years of age.
The minimum height to drive a Monster Truck is 5.2 ft (1.6 m) and 4 ft (1.2 m) for a passenger.
Only guests of 18 years or older with a valid driver's license, can drive a Monster Truck.
Remember to bring cash or a credit card to purchase souvenirs, get the photos of your visit, or enjoy an Optional Activity.
You must check first the requirements of each activity.
Some activities are not suitable for pregnant women, people suffering from epilepsy, asthma, hypertension, diabetes, or with neck and/or back problems, with recent surgeries or a history of heart problems.
Minimum age: at least 5 years old.
Reviews Scores