360 CHICAGO Observation Deck Tickets with TILT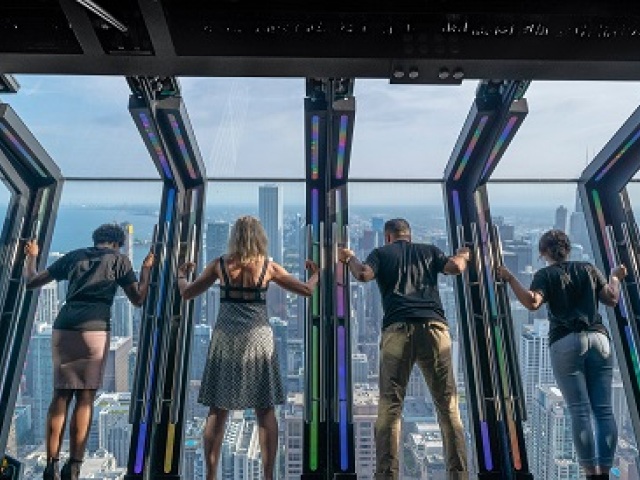 What To Expect
Overview
360 views of Chicago from the 94th floor
Skip the ticket desk line
One ride on TILT - Chicago's highest thrill ride
Magnicity App to learn more about Chicago
Activities You May Also Like
Packages
09:30 AM
Children's price for ages 3-11
10:00 AM
Children's price for ages 3-11
10:30 AM
Children's price for ages 3-11
11:00 AM
Children's price for ages 3-11
11:30 AM
Children's price for ages 3-11
12:00 PM
Children's price for ages 3-11
12:30 PM
Children's price for ages 3-11
1:00 PM
Children's price for ages 3-11
1:30 PM
Children's price for ages 3-11
2:00 PM
Children's price for ages 3-11
2:30 PM
Children's price for ages 3-11
3:00 PM
Children's price for ages 3-11
3:30 PM
Children's price for ages 3-11
4:00 PM
Children's price for ages 3-11
4:30 PM
Children's price for ages 3-11
5:00 PM
Children's price for ages 3-11
5:30 PM
Children's price for ages 3-11
6:00 PM
Children's price for ages 3-11
6:30 PM
Children's price for ages 3-11
7:00 PM
Children's price for ages 3-11
7:30 PM
Children's price for ages 3-11
8:00 PM
Children's price for ages 3-11
8:30 PM
Children's price for ages 3-11
9:00 PM
Children's price for ages 3-11
9:30 PM
Children's price for ages 3-11
10:00 PM
Children's price for ages 3-11
10:30 PM
Children's price for ages 3-11
Things to Know
Included/Exclude
admission to the 94th floor observation deck
one exhilarating ride on TILT, Chicago's Highest Thrill Ride( a minimum size of 42 inches is required to experience TILT)
free Magnicity app download to learn about Chicago
Food and drinks (available to purchase at the observatory's cafe)
Meet Up/Redemption Information
Location
Time
Address
875 North Michigan Avenue, 94th Floor

Last entry is 1 hour prior to closing

09:30am to 10:30pm
875 N Michigan Avenue Chicago, IL 60611
Booking and Confirmation Process
Booking normally confirmed within 5 minutes if available. In the unlikely event that the inventory runs out, we will send you a cancellation notice and a full refund will be issued shortly. Please check your email.
You will receive your booking information instantly via email. In the event that you do not receive an email from us, please check your spam folder or notify us via email.
How To Use
Terms & Conditions
What is the cancellation policy?
Non-refundable reservations cannot be cancelled or modified once submitted.
What if you miss the appointed time or departure date?
Once the booking is confirmed, an absence or failure to show up on the scheduled date or time is a no-show. No refunds or reschedules will be issued for no-shows and late arrivals
Other important information
It is recommended that you make a reservation 3 working days before departure, We will complete your itinerary confirmation and information reply within 24 hours. In case of rush hour, will not exceed more than 3 working days. If sold out, we will provide you with other options or cancel the order.
Wheelchair accessible
Once order is made, can not be cancel or change.
All guests, including 3-11 year old children, must be 42 inches tall (107cm) and above to purchase TILT.
Guests who have selected TILT tickets are advised to arrive at least 45 minutes in advance. If they are late, they will be unable to visit and will not be able to refund the fees.
Reviews Scores