Key West
Assemble at a designed place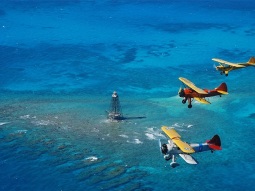 Key West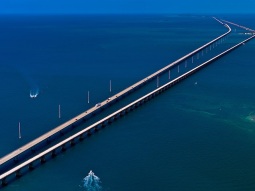 Seven Mile Bridge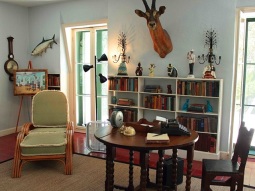 Hemingway Home and Museum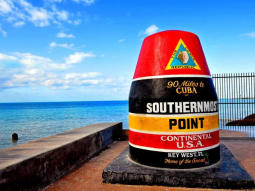 Southernmost Point
It is 180 miles from Miami to Key West through 32 islands and 42 bridges. It is also known as "Duck Island" because of its shape, and also the international Key West Film Festival is held here every year! The world famous Seven-Mile Bridge is another highlighted attraction here. It takes eight years to complete and is quite famous for its magnificent scenery. The former California governor Arnold Schwarzenegger's movie "True Lies" was also filmed in Key West. The amazing scenery along the southern nation and colorful beaches will make you feel like a fairyland. Enjoy free time after arriving in Key West.
Itinerary
Heading to Key West →Drive on Route 1→ Seven-Mile Bridge → Southernmost Point Buoy (Taking photos) → Free time in Key West (180 mins, Hemingway Home & Museum is optional)
Recommended Activities: During free time, you can enjoy a fancy meal in a local restaurant, or buy souvenirs for friends and families. Nobel Prize winners Hemingway's home is a famous place on the island. And don't forget to take pictures with the landmark "Southernmost Point of the Continental US".
Key West
This island in the Florida Keys is the southernmost city in the continental United States. It is loved by tourists internationally for its idyllic Caribbean waters, warm and cozy weather, and stretches of white beaches.
Southernmost Point Buoy
The Southernmost Point Buoy is an anchored concrete buoy in Key West, Florida, marking the southernmost point in the continental United States, the lowest latitude land of contiguous North American States. It is 18 feet above sea level. The large painted buoy was established as a tourist attraction in 1983 by the city at the corner of South Street and Whitehead Street. Today it is one of the most visited and photographed attractions in the United States.
Hemingway Home & Museum
The Ernest Hemingway Home & Museum in Key West was the famous author's home for almost ten years and was where he wrote some of his famous works. It was designated a National Historic Landmark in 1968.