Best of NYC Cruise Ticket, Full Circle of Manhattan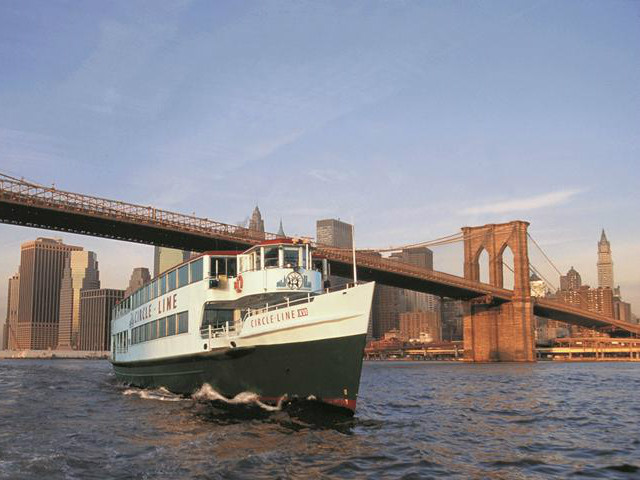 What To Expect
Overview
Experience the only sightseeing cruise in New York City that completely circumnavigates the island of Manhattan.
You'll cruise along all three NYC rivers, pass under 20 bridges and see over 130 of the city's most iconic landmarks including the full Manhattan skyline, the impressive One World Trade Center, the growing Brooklyn waterfront, the legendary Yankee Stadium, beautiful Gracie Mansion, the stately George Washington Bridge and, of course, an up close look at the Statue of Liberty and Ellis Island!
Our world-famous tour guides tell the story of New York City as you journey around the full island and enjoy the best sightseeing experience NYC has to offer!
Activities You May Also Like
Packages
10:00 AM
Available for booking: until 2023.12.31, 2024.3.8-12.30
Adult

$46.55

$49

Child

$38

$40
12:00 PM
Available for booking: 2024.1.1 to 3.7 and 2024.5.24 to 9.2
Adult

$46.55

$49

Child

$38

$40
1:30 PM
Available for booking: until 2023.12.31, 2024.3.8-12.31
Adult

$46.55

$49

Child

$38

$40
3:30 PM
Available for booking: 2024.5.24 to 9.2
Adult

$46.55

$49

Child

$38

$40
Things to Know
Included/Exclude
Best of NYC Cruise 2.5 hours guided tour
Tour guide (narrated in English)
Download FREE multilingual app : The Circle Line Skyline Navigator app offers tour into seven languages: English, Spanish, French, Portuguese, Italian, German, and Chinese (Mandarin).
Free Wifi
Photo stop at the Statue of Liberty
All personal expenses and additional food and drink
Meet Up/Redemption Information
Location
Time
Address
Pier 83

Please arrive 45-minutes to 1-hour before the scheduled departure time;

W. 42nd Street at West Side Highway
Booking and Confirmation Process
Booking normally confirmed within 5 minutes if available. In the unlikely event that the inventory runs out, we will send you a cancellation notice and a full refund will be issued shortly. Please check your email.
You will receive your booking information instantly via email. In the event that you do not receive an email from us, please check your spam folder or notify us via email.
How To Use
Terms & Conditions
What is the cancellation policy?
Non-refundable reservations cannot be cancelled or modified once submitted.
What if you miss the appointed time or departure date?
Once the booking is confirmed, an absence or failure to show up on the scheduled date or time is a no-show. No refunds or reschedules will be issued for no-shows and late arrivals
Other important information
Final sale. No cancellation or refunds allowed once the reservation is made.
Reservations may be canceled if the passenger does not comply with all applicable check-in procedures by the check-in deadline.
Cruises typically depart exactly when scheduled. PLEASE leave enough time for traffic and transit delays and plan to arrive early.
Smoking is not permitted.
Outside food and beverages are strictly prohibited.
Animals are not permitted, except for certified service animals.
Dates & times NOT sailing: July 4 – all cruises after 12PM; Thanksgiving: 7PM cruise; New Year's Eve: 7PM.
Reviews Scores