Day 1: Boston → Secret Caverns → Niagara Falls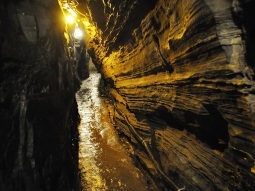 Secret Cavern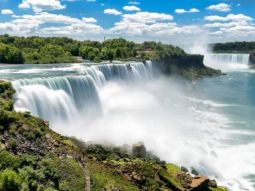 Niagara Falls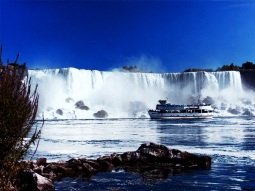 Maid of the Mist
Today, we will go to Secret Caverns first. Later, we are going to see the renowned Niagara Falls. Overlooking American Fall, the Horseshoe Fall and the Bridal Veil Fall, you will be astounded by the deafening roar of the falls. It's the combination of height and volume that makes Niagara Falls so beautiful.
Itinerary:
Boston → Secret Caverns (Optional, 90 mins) → Niagara Falls & Maid of The Mist → Hotel → Niagara Falls Night Tour
Secret Caverns
A 103-step staircase with various layers of limestone deposited faithfully by the prehistoric ocean is the only way in or out. Many of the caverns in this area were formed largely during the last Ice Age about 38,000-14,000 years ago. "For thousands of years, mineral-laden water has been precipitating on the walls, ceiling, and floor of the caverns, leaving behind great deposits of golden calcite. When these deposits hang from the ceiling like icicles, they are called stalactites. When they build up from the floor, they are called stalagmites. And when you see calcite dripping down over the walls or covering the rocks, that is called flowstone. " – You will have a wonderful time with all the views mentioned!
Maid of The Mist
It's the combination of height and volume that makes Niagara Falls so beautiful. More than 6 million cubic ft. (168,000 cubic meters) of water goes over the crest line of the falls every minute during peak daytime tourist hours. This famous Maid of the Mist ride gets passengers as close as possible to Niagara Falls! The Maid rides right into the mist thrown up by the roaring cascade as the Niagara River tumbles over the edge of the falls.
Niagara Falls Night Tour
Get closer to America's Oldest State Park at Niagara Falls State Park! Enjoy some awe-inspiring scenery and adventure-packed experiences with us! Niagara Falls is actually not one waterfall, but three. The Niagara River flows down from Lake Erie and is divided by Goat Island. There, part of it flows to the horseshoe-shaped Canadian Falls (aptly named Horseshoe Falls), and the rest flows to the American Falls. At the American falls, the river is also split by a second small island, Luna Island, creating the third, small waterfall known as Bridal Veil Falls.
M Hotel Buffalo Or equivalent