Cannery Row (60 mins) → Fishermans Wharf (100 mins) → 17 Miles Drive → Lone Cypress (25 mins) → Pebble Beach (45 mins) → Carmel-By-The-Sea (60 mins)
Please see detailed pickup and starting point information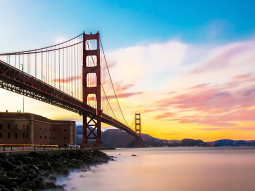 San Francisco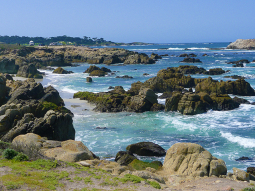 17 Mile Drive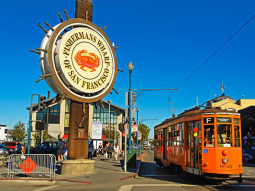 Fishermans Wharf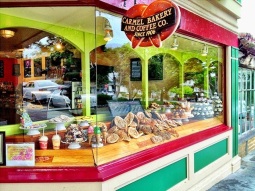 Carmel
Monterey is a city located in Monterey County on the southern edge of Monterey Bay on the U.S. state of California's Central Coast. Monterey's present-day attractions include the Monterey Fisherman's Wharf.
17-Mile Drive
17-Mile Drive is a scenic road through Pebble Beach and Pacific Grove on the Monterey Peninsula in California, much of which hugs the Pacific coastline and passes famous golf courses, mansions and scenic attractions, including the Lone Cypress, Bird Rock and the 5,300-acre Del Monte Forest of Monterey Cypress trees.
Pebble Beach
Pebble Beach is an community on the Monterey Peninsula in Monterey County, California. The small coastal residential community of mostly single-family homes is also notable as a resort destination, and the home of the golf courses of Cypress Point Club, Monterey Peninsula Country Club, and Pebble Beach Golf Links.
Lone Cypress
The Lone Cypress is a Monterey cypress tree in Pebble Beach, California. Standing on a granite hillside off the 17-Mile Drive, the tree is a Western icon, and has been called one of the most photographed trees in North America. Possibly as old as 250 years.
Fishermans Wharf
Fisherman's Wharf is lined with seafood restaurants ranging from casual, open-air clam bars, to formal indoor dining with views of the bay. Along with Cannery Row, Fisherman's Wharf is one of the few areas in Monterey that sells souvenirs, so the restaurants are interspersed with gift shops, jewelry stores, art galleries, and candy shops. Whale watching tours and fishing trips leave from the wharf, and sea lions often sleep on the pilings, buoys, and moored boats in the bay.
Carmel-By-The-Sea
Carmel-by-the-Sea is a city in Monterey County, California, founded in 1902 and incorporated on October 31, 1916. Situated on the Monterey Peninsula, Carmel is known for its natural scenery and rich artistic history. In 1906, the San Francisco Call devoted a full page to the "artists, writers and poets at Carmel-by-the-Sea", and in 1910 it reported that 60 percent of Carmel's houses were built by citizens who were "devoting their lives to work connected to the aesthetic arts."