Redwood Forest Steam Train (ticket included, 45 mins) → Santa Cruz Harbor (60 mins) → American Abalone Farms (60 mins) → Capitola Beach (60 mins) → San Francisco
Please see detailed pickup and starting point information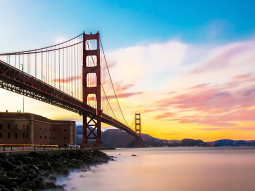 San Francisco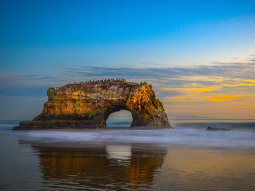 Santa Cruz in San Francisco
Let's travel to the Redwood Forest Steam Train and ride through the Redwood Trees Forest. Following, we will visit the Santa Cruz Harbor and the American Abalone Farms. Finally, we will travel to the Capitola Beach and head back to San Francisco.
Redwood Forest Steam Train
Travel over trestles, through towering redwood groves and up a winding narrow-gauge grade to the summit of Bear Mountain as conductors narrate the history of Roaring Camp, the railroad and the forest. In the 1880s, narrow-gauge steam locomotives were used to haul giant redwood logs out of the mountains. Roaring Camp's steam engines date from 1890 and are among the oldest and most authentically preserved narrow-gauge steam engines providing regularly scheduled passenger service in America.
Santa Cruz Harbor
The Santa Cruz Small Craft Harbor is situated in Santa Cruz, California, on the site of the former Woods Lagoon. Built in 1962–1963, its public use specializes in boating and extracurricular marine activities for the local community and visitors.