Las Vegas → Zion National Park → Bryce Canyon National Park → Las Vegas
Refer to pickup locations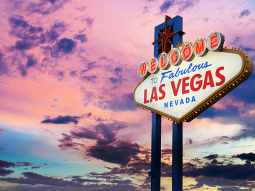 Las Vegas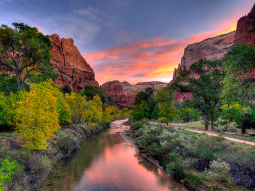 Zion National Park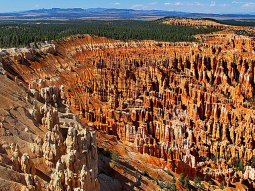 Bryce Canyon National Park
TAKING A BRYCE AND ZION NATIONAL PARK TOUR
Your one-day adventure will begin at 6:00 AM when you will depart from the Las Vegas Strip. We pickup directly from Strip hotels to save you time in the morning and make things convenient. Once aboard your luxury bus, you will receive a Granola bar and bottled water. Then you will begin the journey to two of Southern Utah's famous national parks- Bryce and Zion.
ON THE WAY TO ZION
We ensure that you will travel in comfort by using only the best luxury tour buses. Each bus comes with TVs for entertainment, adjustable air conditioning, spacious seating, and overhead storage. As you make the drive from Las Vegas to Bryce and Zion, the desert terrain will quickly become towering pine forests as you travel across Southern Utah. Driving through scenery such as the Virgin River Gorge, you will witness red rock cliffs high above you on either side of the bus as you drive through the scenic canyon.
A STOP ZION NATIONAL PARK
Passing through the town of Springdale, you will get your first glimpses of beautiful Zion National Park. You will spend 30 minutes at the Zion National Park Visitor Center, where you can admire the views and learn more about the area. Stretch your legs while you get a taste of Zion National Park at this short stop over. Then continue up the mountainside and through the famous mile-long tunnel, arriving at Checkerboard Mesa for a photo stop before exiting the park and heading to Bryce Canyon.
CONTINUE YOUR JOURNEY TO BRYCE CANYON
After this break, hop back on your luxury bus to continue your adventure to your final destination, Bryce Canyon National Park. Along the drive, you will receive your fresh deli lunch from your driver and guide. You can choose to eat during the bus ride, or at one of the national parks.
ENTERING BRYCE CANYON NATIONAL PARK
When you arrive in Bryce Canyon, you will be greeted with views of red, orange, and pink rock spires and cliffs. The iconic rock formations are as interesting to look at as they are to hike through. You will start off at the Bryce Canyon Lodge on the canyon's rim where you can gather information decide how to spend your time in the park.
EXPLORING BRYCE CANYON
You will have 2 hours to see the canyon. If you choose to walk the trails along the rim, you will see incredible views and get unbelievable photo opportunities. For the more adventurous visitors, you can walk the trails below the rim for more unique scenery. With the countless eroded spires and towers within the canyon, you will witness scenery that you cannot see anywhere else.
DEPARTING BRYCE CANYON
After your time in the canyon, you will meet back at Bryce Canyon Lodge to board the tour bus. Traveling back to Las Vegas, you can sit back and relax while your driver and guide does all the work. You will arrive back to Las Vegas around 7:30 PM that night. The bus will drop off at the same locations as the pickups in the morning. This early return time to Las Vegas allows you to grab dinner and explore Vegas at night if you choose to.
WHY CHOOSE A BRYCE CANYON AND ZION NATIONAL PARK TOUR?
Take advantage of the opportunity to experience two of Utah's most famous National Parks--Zion and Bryce. You will enjoy both parks in a hassle-free and stress-free day tour! Each National Park offers seemingly endless, incredible landscapes that are sure to impress. The unique natural beauty of these areas were created over hundreds of thousands of years and continue to be re-shaped even today. Their breathtaking scenery will delight all visitors. An array of hiking is available, from invigorating hiking trails, to very accessible walks, offering options to all levels of visitors. Each park has something for everyone, whether you choose a relaxing stroll or a challenging rock-climb. Experience the best of two worlds and discover both National Parks together with this efficient and convenient tour. You can become part of Nature's spectacle. Through our custom-tailored route and itinerary, you can join from any point along our route. Do yourself the favor you deserve, and let us take you to escape to the wonders of Zion and Bryce Canyon National Parks.
Sample Tour Itinerary:
1. You will depart in the morning from Las Vegas, and head North through the Mojave Desert.
2. Approximately 90 minutes later, you will pass Mesquite, Nevada and enter the Virgin River Gorge, a dramatic and beautiful canyon carved by the rushing river waters in Northwestern Arizona.
3. Crossing into Utah, you will travel through St. George, known as Utah's Dixie with its mild climate.
4. About three hours into your journey, you will pass through the town of Springdale, the gateway town to Zion National Park, and enter into Zion Valley.
5. You will make a brief stop at Zion National Park's Visitor Center, and enjoy surrounding views of the towering canyon walls.
6. Continuing on through Zion, you will travel up the road on the South walls of the Canyon, and enjoy breathtaking views before passing through the tunnel toward the East Entrance of Zion National Park.
7. Continue your journey to Bryce Canyon National Park, about 90 minutes from Zion National Park, and enter into a wonderland of spires, hoodoos and beautiful rock formations.
8. Arrive at Sunset Point inside Bryce for some rim walks, picture taking and enjoying the natural splendor of the area.
9. Depart Bryce Canyon for your return trip, traveling the other direction back through Zion National Park, and continuing back to Las Vegas.
10. Arrive at Checkerboard Mesa, a unique geologic formation on the upper mountains of Zion, for a photo stop.
11. Return to Las Vegas.
There will be rest stops provided on each way
Around 08:45pm PST
Things to Know

The itinerary is for reference only, the tour guide reserves the right to make adjustments according to the actual situation on the day.