Yosemite National Park and Giant Sequoias Trip
Please see detailed pickup and starting point information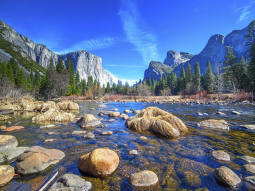 Yosemite National Park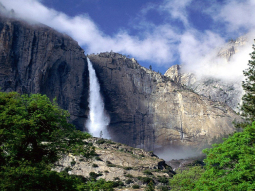 Yosemite Waterfall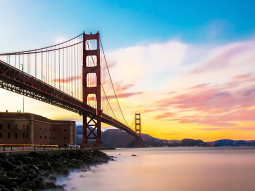 San Francisco
Your journey begins with a convenient pickup at your hotel. You'll cross the San Francisco Bay Bridge en route to the Sierra Nevada mountain range, driving through gold rush towns as your guide carries you back to the era of the old West.
In the late morning, enter Yosemite National Park where you'll take a guided walk. Visit the Tuolumne Grove (weather permitting) and be amazed by the size of the redwood trees in Yosemite's largest grove. Let the serene surroundings of the forest recharge your energy. Stop at the "Fallen Monarch" and "Grizzly Giant" and walk through the "California Tunnel Tree" to get a close-up look at Mother Nature's wonders.
Continue your journey through Yosemite with a stop at Inspiration Point for a bird's-eye view of the whole valley. Gaze up at the massive granite formations of Half Dome and El Capitan, watch for rock climbers as they daringly make their way to the summit. In the springtime, marvel at the tallest waterfall in the park, Yosemite Falls.
After, you may explore Yosemite Valley on your own. For lunch, enjoy a picnic next to the Merced River or visit one of the restaurants at Yosemite Lodge (own expense). With an additional 1 – 1.5 hours of free time to spend, you can engage in a variety of activities available within the park. Hike to one of Yosemite's waterfalls and perhaps spot a black bear; rent bikes for a leisurely cycle on the flat bike paths throughout the valley; cool off in lovely river pools in summer; or simply relax at the Valley Visitor Center or peruse the Ansel Adams Gallery — sure to inspire any amateur photographer.
When it's time to head back to San Francisco, sit back and enjoy the scenic ride through the Sierra Nevada and into the sunset.
Please note: The weather in Yosemite is highly variable and includes rain and snow in winter and high temperatures in summer. The itinerary may be adapted to make the most of Yosemite during different seasons and times of the year.
The Giant Sequoias are best visited between May and October. During the rest of the year, snow and ice conditions may prevent access to roads and trails. In this event, other activities may be substituted in its place.
Duration: 14 hours (approx.) / Return to the original destination